We had "Best Of The World In Security" Webinar On "Analysing Cybersecurity Industry In Quarter 1". We discussed the latest analysis of the 3,251+ vendors in the cybersecurity industry. A bottoms up analysis of all the vendors derived from platform for industry research reveals the overall health of cybersecurity. Which companies and segments are growing and Which are failing Learnt how do these numbers compare to historical trends.
Session Agenda
Zero signs of industry consolidation
Digital Mercantilism is driving the growth in number of vendors
Still no solution to the SolarWinds problem
About Speaker
Richard Stiennon is the Past VP Research, Network Security @Gartner, Author of Security Yearbook 2023. He is the Chief Research Analyst for IT-Harvest and has presented on cybersecurity in 29 countries in six continents, A Lecturer at Charles Sturt University and the Author of Surviving Cyberwar and There Will Be Cyberwar. Richard held leadership roles at Blancco Technology Group, Fortinet, Webroot Software and Gartner.
(Webinar) Recorded
Discussion Highlights
1. The vendor companies are categorization process & Industry experts. There are 3359 vendors company which create their own technology for security. The vendors are breakdown into categories by the country. The top 5 bucket of cybersecurity have always been - Government Risk Compliance (GRC), Data Security, Identity & Access Management (IAM), Network security, Endpoint Security.
There were 71 vendors that took in new capital. They were spread across 16 of the 17 categories we track, Deception was the one category with no new investments. As usual, the US led in funding rounds, followed by Israel and then the UK.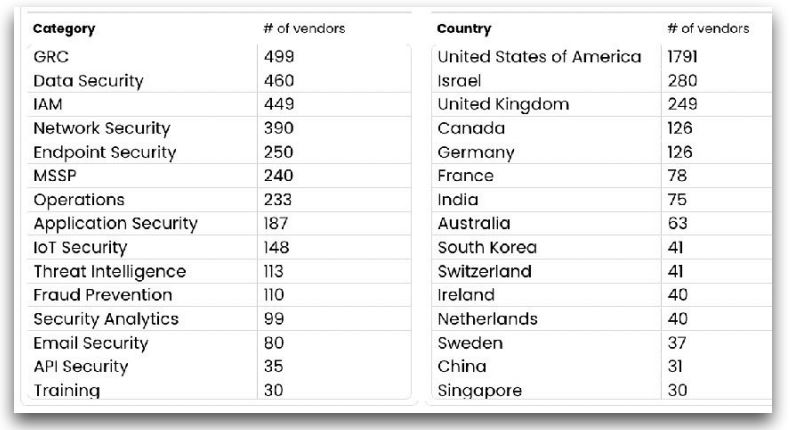 2. Vendors graph by founding dates, average date is 12 years.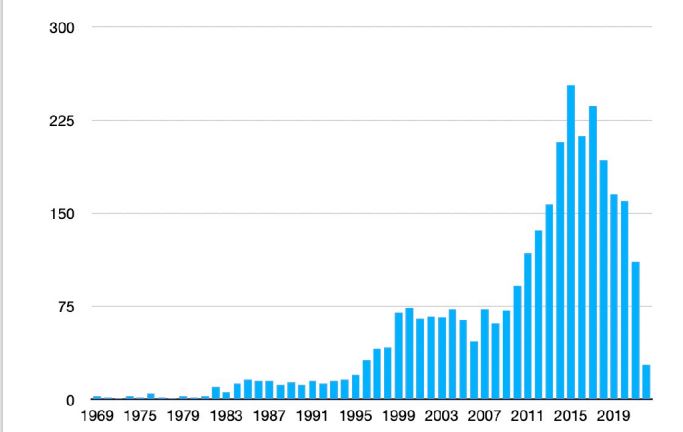 3. Vendors category Differences by Country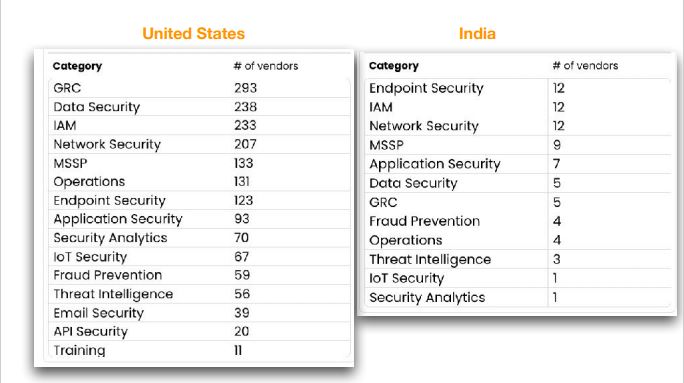 4. 50 more vendors are from India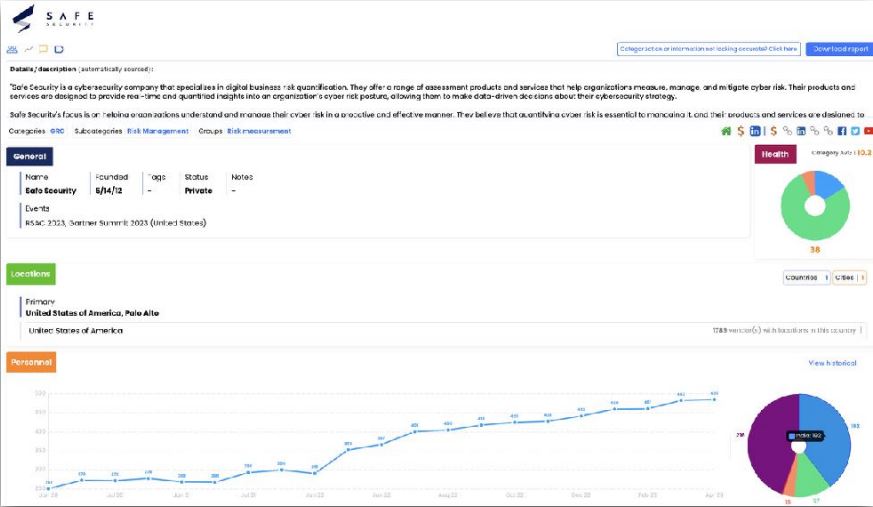 5. Growth by Sector, 2022
Training

Fraud Prevention

Testing

Security Analytics

Deception

GRC

IOT Security

Network Security

Endpoint Security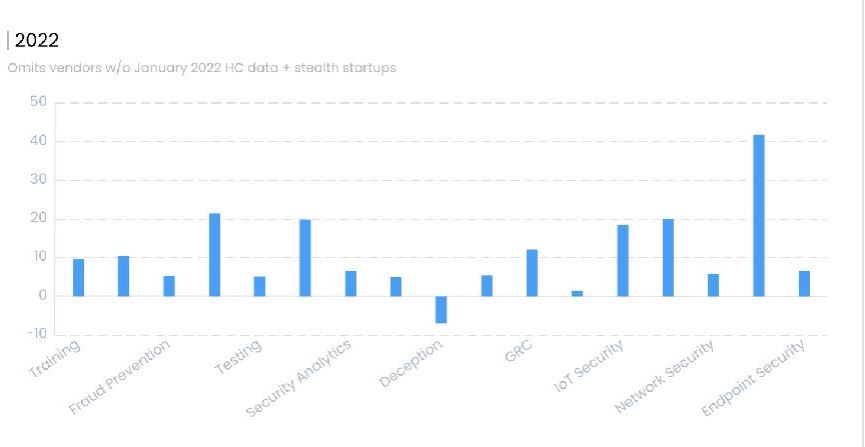 6. Growth by Sector, Quarter 1 2023
Training

Fraud Prevention

Testing

Security Analytics

Deception

GRC

IOT Security

Network Security

Endpoint Security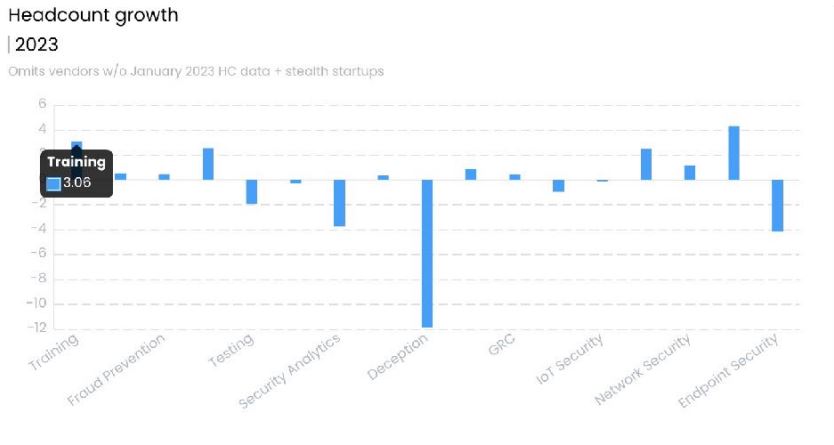 7. Fastest Growing Quarter 1, 2023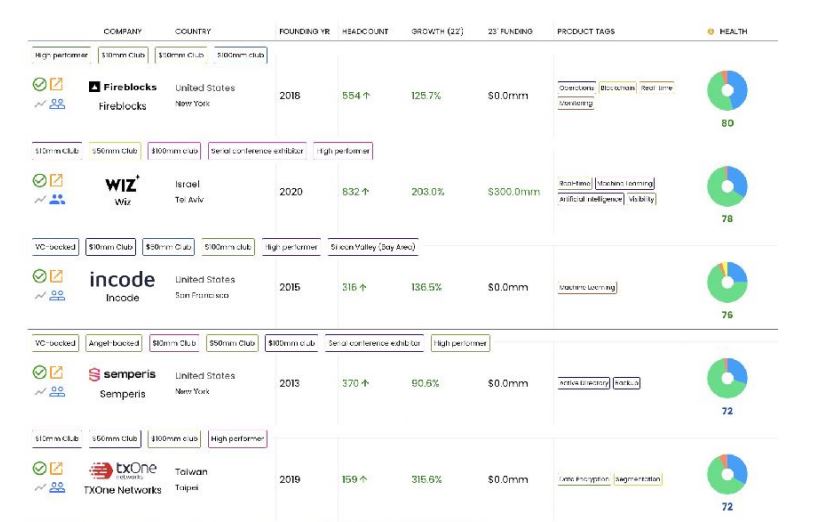 8. Investments - $17 billion 2022, while at $2.4 billion in Q1 on track to be under $10 billion in 2023. Last year saw 330 total investments, so Q1 is running at a lower annualized rate of 284. The top rounds below were all over $50 million, with NetSkope taking in the largest round of $401 million and Wiz taking in an additional $300 million at a $10 billion valuation.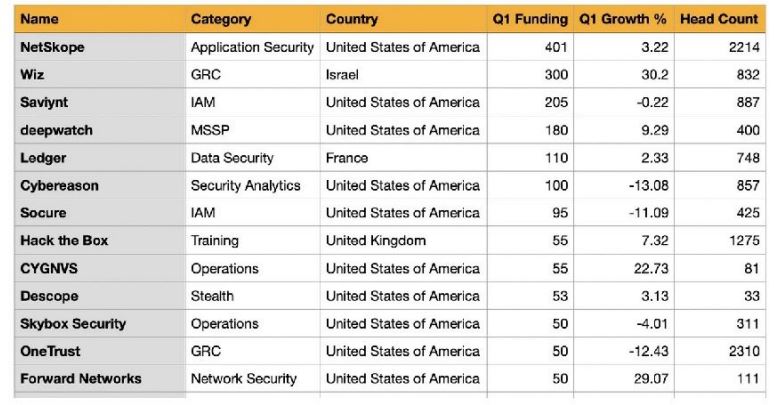 9. Is the Industry Heading into a Recession?
54% of vendors grew in 2022

26% lost head count

$17 billion is up 70% from 2020 level

There were 338 acquisitions compared to 2021's 415

Total funding was $2.413 billion, on track for a paltry $9.6 billion which will fall short of 2020's $10 billion (which was a record at the time.) When I was a Gartner analyst we pegged the entire industry at a $2.2 billion market.One explanation for the short fall in new funding rounds could be that the March collapse of Silicon Valley Bank disrupted deal flow across the entire tech center. We will know if that is the case as Q2 plays out. An upswing in activity may be explained by delayed Q1 deals. (Reference link here)