We had "Best Of The World In Security" Webinar On "DevOps Lesson For Your SOC (SRE)". We discussed Google-inspired lessons of transforming detection and response practices using the approach we call Autonomic Security Operations. DevOps transformed IT and changed roles, practices and skills within IT. Security in general and security ops, in particular, are sometimes left behind. 
Session Agenda
How does the security analyst role evolve?
How security processes change in an ASO SOC?
How automation reduces toil (and what is toil, anyway)
About Speaker
Dr. Anton Chuvakin, Past Gartner Analyst and very well known in the information security community. He is currently the security advisor at Office Of The CISO At Google Cloud. He is a recognized security expert in the field of SIEM, log management and PCI DSS compliance.
(Webinar) Recorded
Discussion Highlights
1. 2003 or 2023? Sec Ops is Ripe for Transformation
We can't store and analyze all data, resulting in blindspots

It's cost prohibitive to ingest all the data we need

It takes too long to investigate alerts

We struggle to build effective detection and have too many false positives/negatives

Our processes are too manual, we are too slow to respond to and remediate threats

We don't have enough skilled engineers to make everything work
2.  What Outcomes did DevOps / SRE achieve?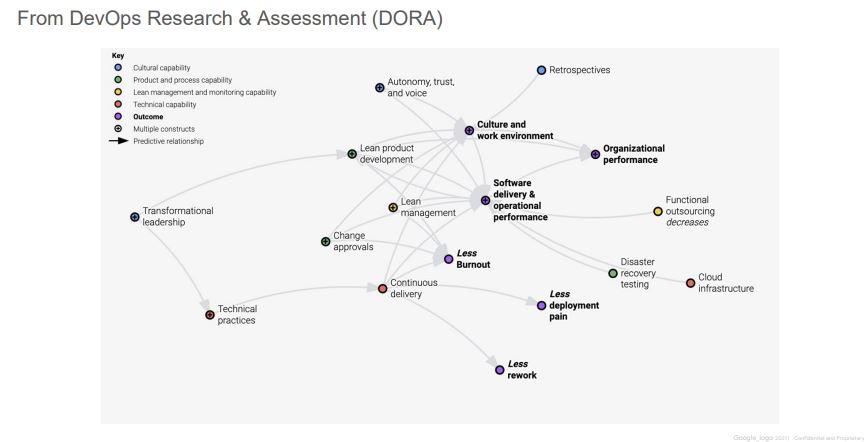 3. Google vs Enterprise "SecOps"
- What does Google do?

Automation/SRE is a mindset – part of the hiring process, part of OKRs, and performance reviews

Requires coding interviews, high pay, attracts the best, invests in growth

40/40/20 between eng, operations, and learning

Investment in efficiency solves for human costs

Intel strongly embedded in D&R, mostly utilized towards proactive work, strong collaboration across Alphabet & benefits from developer hygiene

- What do most enterprises do?

Experimenting with SOAR, full adoption is tough due to minimal automation culture

Hires traditional roles, no coding, rarely outsources, less pay, less growth, more stress

Utilization is almost always >100%

Cost-prohibitive data ingestion, oftentimes paying SIEM + DIY, increasing $ from complexity

CTI team produces great reports, SOC consistently doing fire drills, >90% false positive rate, uneven distribution of skill (Tier 3)

4. Autonomic Security Operations Principles:

- ASO should
Eliminate toil

Embrace change

Strive for continuous improvement

Bridge all siloes

Use service level objectives

Avoid hero mentality

Aim for simplicity

- ASO should not
Restrict hiring to top professionals

Require an engineering-only culture

Increase overall tooling footprint

Aim for incremental gain

5. Eliminate Toil : manual, repetitive, automatable, tactical, devoid of enduring value, and that scales linearly as a service grows
- Causes of Toil

Too much technical debt

Priorities or goals are not aligned

Lack of training or support

Lack of collaboration

The business value to fix is too hard to realize

- Less Gathering, More Analysis – basics to automate
Gathering machine information

Gathering user information

Process executions

All context needed to help get to final (human) judgement



- Key Activities To Implement

Train your team on toil & automation
Create an Automation Queue
Implement Blameless Postmortems
Conduct Weekly Incident Reviews
Implement SOAR
Hire Automation Engineer(s)
Implement CD/CR pipelines with metrics
6. Evolve Automation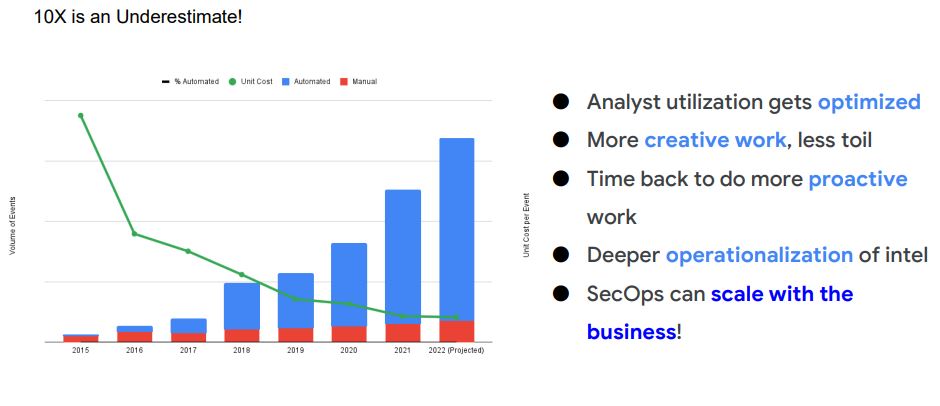 7. Practice Release Engineering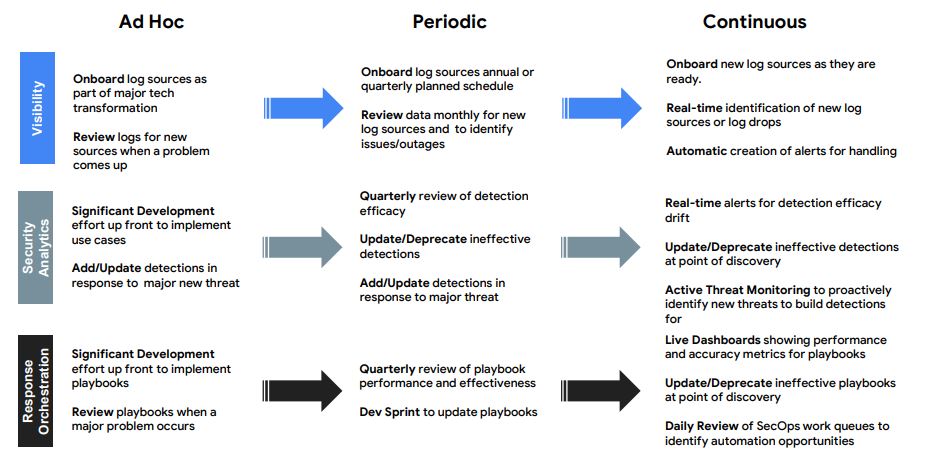 8. Strive for Simplicity
Complex systems require substantial human expertise in their operation and management. This expertise changes in character as technology changes but it also changes because of the need to replace experts who leave. In every case, training and refinement of skill and expertise is one part of the function of the system itself. At any moment, therefore, a given complex system will contain practitioners and trainees with varying degrees of expertise. Critical issues related to expertise arise from (1) the need to use scarce expertise as a resource for the most difficult or demanding production needs and (2) the need to develop expertise for future use.
9. The Power of Continuous Improvement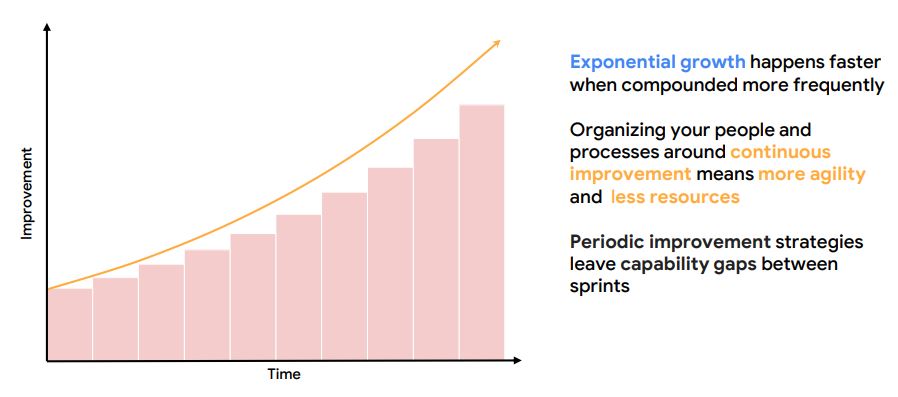 10. Actions
Reduce toil in your SOC - shift toil to machines
Evolve automation in SIEM, SOAR, threat intel, etc
Use SLOs / metrics to drive change
Practice release engineering for consistent improvement
Strive for simplicity with processes, technology stack, etc