Cyber risks have evolved significantly over the last couple of years across industry sectors. Cybersecurity  is  a  matter  of  growing  concern  as  cyber-attacks  cause  loss  of income,  sensitive  information  leaks,  and  even  vital  infrastructures  to  fail.
The BFSI industry, in particular, has become the target of choice with malicious actors exploring every avenue they can in order to identify areas of vulnerability. Though the financial sector has invested hugely in security – and, logically, it is among the most advanced when it comes to IT security. But clearly, there is more to be done.
Security Breaches in BFSI industry of India
Union Bank: Hackers managed to steal Union Bank's Access Codes for the Society for worldwide Interbank Financial Telecommunication (SWIFT)
Axis Bank: Unauthorized login by an unnamed, offshore hijacker
 Hitachi Payment Systems: Malware Caused breach of Bank data
Yes Bank: Malware attacked some ATMs and POS machines
Bank of Maharashtra: Central Server Hacked
Source : The Economic Times
READ MORE >>  Analysing/Dissecting Uber Subdomain Takeover At...
Security Score Snapshot for Indian BFSI Industry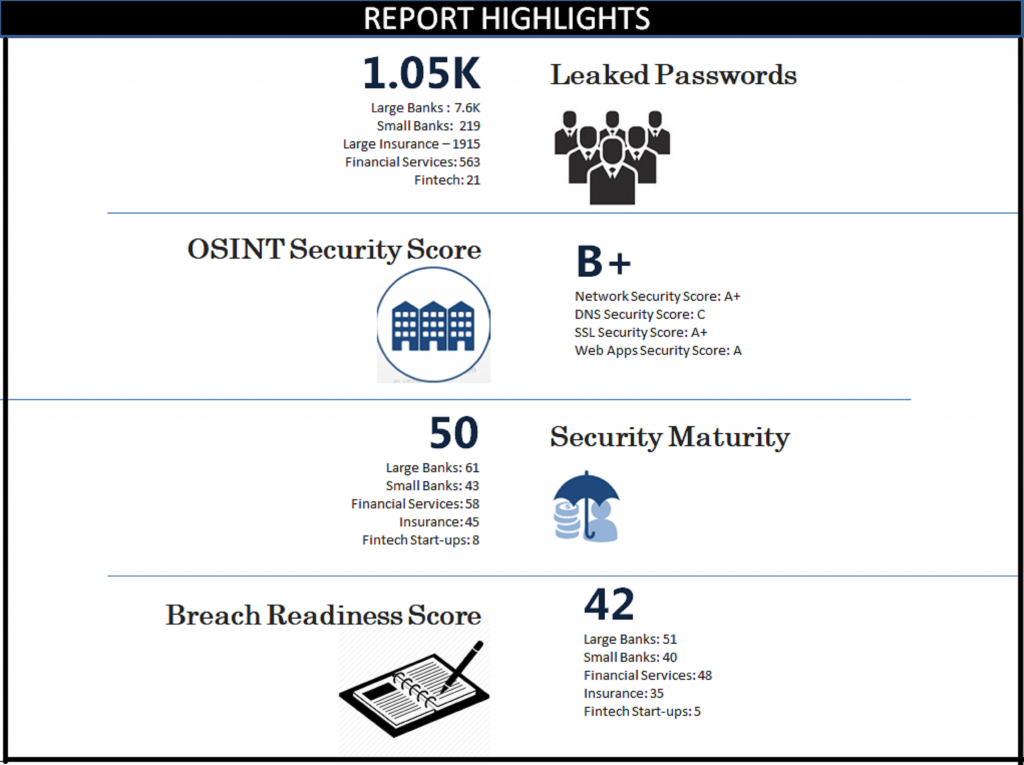 Key Findings
An average OSINT Score of B+ doesn't justify the cyber security system in place for BFSI Sector
Banking sector in India is found to have an established, strong encrypted links between their server and client browser, with most of the banking organisation having an A+ average rating in terms of their SSL score
Large Indian Banks and Telcos are the most mature with average score of ~60% with Small Banks still lagging far behind at ~45%
Insurance sector in India is found to have an established, strong encrypted links between their server and client browser, with each of the sector having an A+ rating in terms of their SSL score
Client- Server Computer programs for Financial services are found to be poorly performingagainst potential cyber attacks with an average web-app security score rating of below B+