FireCompass Announces The Winners Of "Top Cybersecurity Startups 2017 (India)"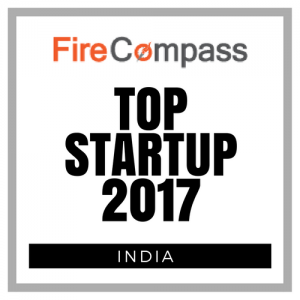 FireCompass, an AI based platform which helps you to discover & compare Cybersecurity products has just announced the names of Top CyberSecurity Startups 2017 (India). 
With the growing cyber attacks, the role of innovations in the cyber-security startups ecosystem has become more crucial than ever. "FireCompass Top Startup" recognition is part of the vision to help promote innovations in the domain of Cybersecurity as well as helping end user organizations to keep track of emerging technologies and vendors.
FireCompass Top Startups were selected through a stringent process based on real end user feedback. The jury consisted of Top Industry CISOs and industry innovators. The startups presented face to face to the jury and based on presentations of their innovations the Final 3 were selected. Here are the FireCompass Top 3 CyberSecurity startups for year 2017 (in no particular order):
Smokescreen: Smokescreen has an innovative product called Illusion Black in niche market called "Deception". It maximizes attack detection through the kill-chain, even against stealthy, targeted campaigns that don't involve malware.  features rapid out-of-band deployment, no performance impact, enterprise scalability, and minimal false positives, leading to faster breach detection and improved security and incident response team productivity. From targeted threat intelligence of an impending attack, to detecting lateral movement in every single subnet, Smokescreen's deception technology helps turn the tables on apex attackers. To know more about Smokescreen: Click Here

DNIF: It is an "Open" Big Data Analytics Platform that can ingest, parse, enrich large volumes of data each day and bounce back with actions using complex rules, profilers and machine learning models. Get started with easy 3 step deployments — on-prem, on cloud or just go virtual. It is an "Open" Big Data Analytics Platform that can ingest, parse, enrich large volumes of data each day and bounce back with actions using complex rules, profilers and machine learning models. Get started with easy 3 step deployments — on-prem, on cloud or just go virtual. To know more about DNIF: Click Here

Shieldsquare: ShieldSquare's real-time bot mitigation enables online businesses to prevent content & price scraping, account takeovers, shopping cart abuse, carding, application DDoS attacks and skewed analytics. With its adaptive bot detection engine, it empowers its customers to always stay ahead of ever evolving bot attacks. To know more about Shiedsquare: Click Here
You can also refer to our study to know Top 50 Emerging Vendors of 2017: Click Here